"A healthy outside starts from the inside"
After a summer filled with BBQs, vacations, patio hang outs and enjoying perhaps a few too many cocktails in the sun (and wildfire smoke), many people start to think about getting back into routine and on track with diet and exercise. With fall being a time of transition as the leaves turn color, cooler temperatures and less daylight, it can be a great time to make some transitions of your own. Many even view the beginning of fall time like the start of a new year, engaging in new projects and re-examining health and fitness goals.
If you're looking to make some health & nutrition related changes this fall, we have a great program to help you get started!  Our "30 DAY RESET" Clean Eating Challenge.  It's a great way to make your health and wellness a priority in a supportive group / community!
Why Reset?
We spring-clean our homes, change the oil in our cars, and even revitalize our wardrobes.  So why not clean our bodies, do they not deserve the same attention? On a daily basis, we are already exposed to so many toxins and pollution, not to mention what's in our food, unknowingly (Yikes!). You may be thinking, my body detoxifies just fine, why do I need to cleanse or "reset" my body?  Well, that may be true to an extent, however the body can only handle so much before it starts to get bogged down.
The liver, our body's main detoxifying organ, has over 500 functions and has to process what comes in. The body depends on the liver to regulate, store, produce, and secrete many important proteins and nutrients. When faced with daily stressors (chemicals, heavy metals, pollution, processed foods, etc) the liver can become overburdened, impacting its function and in turn impacting our metabolism, energy, sleep and mood (for just a few examples). By taking a break from certain foods or substances, we can help restore optimal liver function, become more aware of how our bodies respond, learn how to best fuel our bodies and recognize what makes us feel good from within.
Signs you could use a reset include: sluggishness, low energy, irritability, runny nose, sudden weight gain, constant infections, bloating or congestion.  Unfortunately, many people accept these symptoms as 'normal' or 'just the way the body is'.  When in fact, these symptoms are actually ways your body is communicating with you and showing you the signs of imbalances within.
How do You Know if this Reset is for You?
You want to get back on track with your health and would like some guidance, support and accountability
You want to gain knowledge and understanding around nutrition and what works best for you (we are all unique and have different needs)
You want to eat food that is healthy and actually tastes delicious without counting calories or having to track macros
You want to end the constant cycle of cravings for sweets and unhealthy foods
You want to lower your inflammation and symptoms that are causing you to feel bloated, congested, brain fogged or plain ol' tired.
You're ready to make changes that will be sustainable!
 "Take care of your body, it's the only place you have to live"
Most of us don't realize how amazing our bodies can feel and how much room there is for improvement within each of us. A healthy lifestyle truly is rewarding and becomes second nature once you make the commitment and begin to experience the many benefits!  This was something I came to realize when I switched from the Standard American Diet to a whole foods diet years ago. I never knew it could feel so good and how life changing it could be. After years of suffering from many imbalances in my body, I really saw the difference a change in diet could make by focusing on the key foods that were right for my body. By switching to a more clean eating approach and eating intuitively we can also help eliminate many food sensitivities. I myself have experienced less discomforts like joint pain, inflammation and improved my digestion. There's no way I could go back to my old way of eating now!
Clean Eating Simply Defined
Eating clean is about eating whole foods (those closest to their natural state as possible) while at the same time reducing intake of processed foods – those foods that are packaged, sealed and laced with a multitude of artificial ingredients that ultimately harm our health.
What we put on our forks each day directly impacts our health and overtime that adds up! When we shift to a more consistent focus on whole foods, we can experience an overall improvement in our health and well – being. Additionally, when we shift to foods that don't contain labels, we no longer need to worry about counting calories.
The Challenge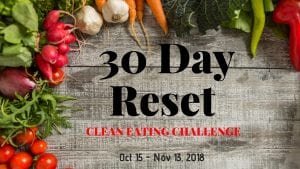 During our 30 DAY RESET, we will focus on foods such as fresh fruits, vegetables, lean protein, whole grains, nuts and seeds.  Foods that are more wholesome, nourishing and energizing, and we'll do it without leaving you feeling deprived!  At the same time, we will work to eliminate those foods that have a negative effect on our health and prevent us from feeling our best.
If you're looking for your own 'reset' this fall, let me help you get back on track!  Our 30 DAY RESET Clean Eating Challenge will help give you the support, guidance and motivation you need to make some long lasting and life altering changes.
By the time you're completed our 30 DAY RESET, you'll be able to identify the foods that trigger reactions and make you feel heavy, bloated, and inflamed.  You will notice your energy and mood start to improve.  Along the way you'll also develop healthier eating habits and relationship with food! This is not a diet, quick fix, or weight loss program, but rather a pathway to a deeper understanding of how to best support your body, fight inflammation and feel your best. This Challenge is for anyone who wants to feel more vitalized and improve their overall health with some professional support along the way.
To learn more, attend our FREE Clean Eating Workshop and Info Session on either September 23 at 9:45am OR September 30th at 4pm in the classroom at Urban Athlete. In this workshop, you will gain practical and relevant strategies for clean eating this fall and walk away with some helpful tools to implement into your daily routine. You will also learn about the Challenge itself.
For more details, see front desk to register and to save your spot for the Workshop. This Challenge is open to members and public!
Look forward to seeing you there!
**CLICK HERE TO REGISTER for Urban Athlete's 30 DAY RESET Clean Eating Challenge!
Our Challenge kicks off October 15th and runs to November 13th, 2018**